May 21 - 24, 2019, Banff, AB
2nd International Conference on Hydrogen Deutrerium Exchange Mass Spectrometry (HDXMS 2019)
The Organizers of HDX-MS 2019 invite you to Banff, Canada, for the Meeting of the International Society for H/D Exchange Mass spectrometry! The meeting follows the highly successful inaugural gathering in Sweden, and in 2019 it will be held in the heart of the Rocky Mountains at the
Banff Centre
in
Banff
, Canada. We are assembling a spectacular scientific program focused on applications of HDX-MS.
The meeting has four exciting session topics. These are:
HDX-MS in integrative structural biology

Protein function

Biopharmaceutical/drug discovery

Advancements in H/D exchange fundamentals and technology
The aim of this conference is to provide an opportunity for practitioners from academia and industry to meet and discuss exciting research and new developments in HDX-MS.
John Burke, Assistant Professor
Department of Biochemistry and Microbiology
University of Victoria
David C. Schriemer, Professor
Department of Biochemistry & Molecular Biology
University of Calgary
Co-Chairs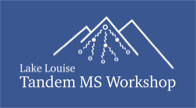 December 4 to 7, 2019
TANDEM MS WORKSHOP
Lake Louise, AB, Canada


The 32nd Annual Tandem Mass Spectrometry Workshop will be held at the Fairmont Chateau Lake Louise (Alberta, Canada) from December 4 to 7, 2019. The workshop focuses on scientific exchange and dissemination of technical aspects of MS/MS. Sessions take place in the heart of the Canadian Rockies – 2 hours from Calgary. On Friday afternoon participants can enjoy world class skiing, which is minutes away, or they can simply take in the serene setting of the conference site. The format is informal and designed to stimulate discussions for a maximum of 110 participants. Session topics include: Peptides and Proteins, Environmental MS/MS, Gaseous Bimolecular Ions: Theory & Experiment, Instrumentation & Methods, and Fundamentals & Ion Reaction Dynamics. For more information please contact Lars Konermann (
konerman@uwo.ca
) or visit the conference website at
lakelouisemsms.org
.

AOMSC 2020
January 5 to 7, 2020

"The Art and Science of Mass Spectrometry, from Fundamentals to Applications." This three-day meeting will feature daily parallel sessions of plenary, keynote and oral presentations, in addition to daily poster sessions. Topics will be broadly themed, ranging from fundamentals, instrumentation, and ion spectroscopy to biomedical and clinical aspects of mass spectrometry. There will be opportunities for vendors to organize, meet with attendees, and exhibit their products and services (please contact Ms. Janette Champ, President of the ETP Symposium, for details).

The conference will be held at the University of Hong Kong (HKU). Located in the mid-levels of Hong Kong Island, the University is conveniently served by the metro, buses, and taxis. Established in 1911, HKU is the oldest university in Hong Kong, and is delighted to receive guests to AOMSC 2019.

We very much look forward to welcoming you to Hong Kong!


Ivan K. CHU
Chair, on behalf of the AOMSC 2019 Organizing Committee

August 21 - 23, 2020, Vancouver, BC
9th Asia-Pacific International Symposium on Advanced Reliability and Maintenance Modeling (APARM 2020)
More details to come.